Our Welcome to You
Remember the nursery rhyme? "Here is the church, here is the steeple, open the doors and here are the people!" Well, welcoming "all the people" is our very intentional invitation to you, your family and your friends.

We're here to enthusiastically share the life-changing good news of JESUS and his love. At Oakland Christian UCC, you'll find people joyfully embracing life, caring for one another, and reaching out to others though our many ministries and missions both locally and beyond.
Please join us as we gather for Sunday worship at 11:00am. During worship we build up the body of Christ through our music, the message, and our prayers. Prior to worship we offer adult spiritual formation and fellowship options. Nursery child care begins at 10:00am if needed.
At Oakland Christian UCC, it's all about building relationships with God and one another. If you're yearning to learn more about us, we certainly invite you to explore our website … or better yet, to come and visit us! As we humbly say, "Our faith is over 2000 years old. Our thinking is not!" We believe that "God Is Still Speaking."
Whether you're a seeker or a veteran, a newcomer or an old-timer, filled with confidence or full of questions, we invite you to join us in our pilgrimage of faith. Our table is open to all who desire the spiritual nourishment of God's love, and our inclusive worship, education, fellowship, and service provide abundant opportunities for the living out of our individual and corporate faith.
The ministers of this church are its members — I am simply the pastor — and in their name let me say again how pleased we are to welcome you to Oakland Christian UCC!
Wishing you God's peace, grace and love,
Oakland Christian United Church of Christ
Our History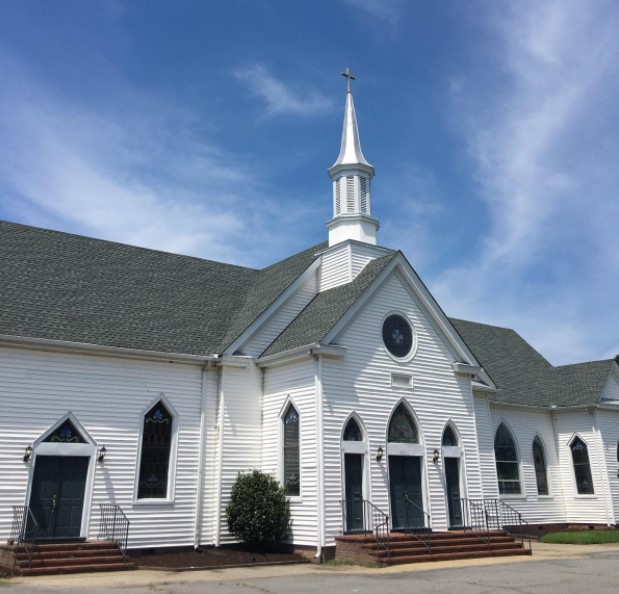 Since 1872, Oakland Christian United Church of Christ has been a place to call home and a people to call family at the bend in the road on Godwin Boulevard in Suffolk, Virginia. Founded with 30 charter members, Oakland Christian UCC has served the village of Chuckatuck in the city of Suffolk for the past 147 years. For the first 100 years, most church members lived and worked in the rural, and mostly agricultural, communities within close proximity to the church. As Suffolk has become more diversified, so too has Oakland's membership, which now consists of people from all walks of life and from a wider geographical area. The church has always been known for its community involvement, generosity and excellent choral music program. Oakland has been on the forefront of America's social issues of the recent past. With the help of God, we honor our past, remain called to the present, and strive to live into our future.
Our Commissioning
Let us now go forth into the world in peace.
To be of good courage.
To hold fast to that which is good.
To render to no one evil for evil.
To strengthen the fainthearted, to support the weak, to help the afflicted, and to rejoice in the power of the Holy Spirit.
Our Statement of Purpose
To share God's love with all people.
To serve the Lord with humility and kindness.
To grow with the Lord in wisdom and strength.