What to Expect at Oakland Christian UCC
We're excited you are thinking about visiting our church!
We offer a welcoming and friendly environment for worship. Greeters will assist you in finding all that you need to enjoy and be at home in your visit with us.
Worship
Adult Sunday School begins at 9:00 AM
Online lessons are released on the Oakland Christian Church UCC YouTube channel every Sunday, along with our worship services and sermons.
Worship Service at 10AM
Sunday Service temporarily being held in our Community Life Center following COVID-19 protocol.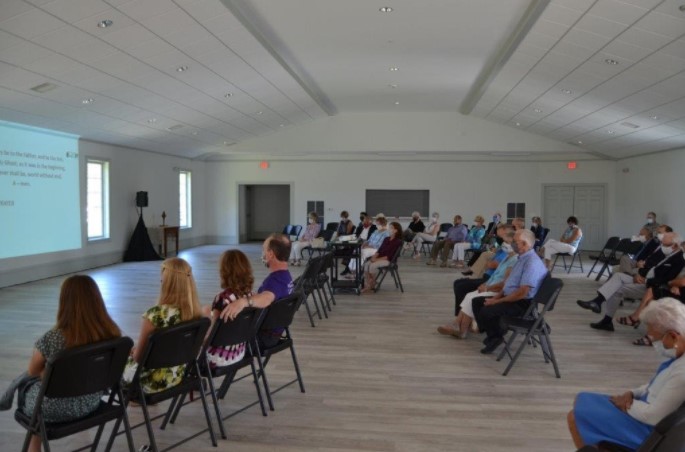 The morning worship service has been our traditional service since 1872. Each service is focused around a sermon prepared by our minister and supplemented by God's gift of music. This service includes the Chancel Choir who lead all the hymns and sing an anthem selected by the music director. Expect awesome music and an inspirational message with a family atmosphere. Early in our worship service, a short children's message is given and the children are invited to exit the sanctuary after the message and attend Children's Church ages 5 to 10 years. Childcare for young children is provided in the nursery for ages 0 to 4.
Due to COVID-19 no Nursery or Children's Church at this time.
Youth, Teen, and Adult Sunday School begins at 11:15am immediately following our worship service. Childcare for young children is provided in the nursery.
Due to COVID-19 no Youth Sunday School classes at this time.
Attire
In worshipping with us you are likely to find dresses, suits and ties as well as jeans, t-shirts and shorts. What you can be certain of is that you are welcome to join us in the attire which feels comfortable for you.
Parking
We have ample parking available surrounding our church. You will be able to easily find our front entrance.
Timing
Our Worship Services typically last about an hour, but can run a little longer on special celebration Sundays. We recommend arriving early to find a seat you're comfortable in and meet a few folks before service begins.
Frequently Asked Questions
Q: Do you have a program for youth?
A: Yes, we have Sunday School classes for children of all ages, and an active youth program for teens.
Q: Do you provide transportation to your church service?
A: Yes, we send a bus to pick up the residents at the area assisted living center.
Q: Is your church available for community use?
A: Yes, we host the Boy Scouts, Girl Scouts, Bee Keepers, and a number of men's and women's service groups. We have built a new Family Life Center which we will use as a portal for more community involvement.